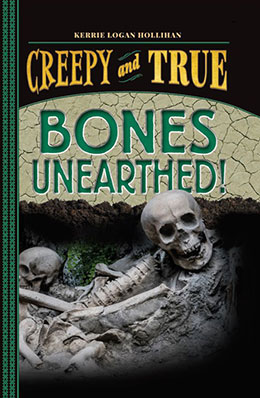 I spoke with junior high kids last week in Washington DC, thanks to a wonderful organization, An Open Book Foundation, which puts books in the hands of students who live in our nation's capital. My topic was BONES UNEARTHED!, my latest in the Creepy & True series from Abrams Books for Young Readers.
It's February, and so I'm thinking that "love is in the air." But what's to love about bones and burials and archaeology.  As it happens, a lot! I decided to share what I'd learned when I wrote the last chapter of BONES!, which I titled "Bones and Benevolence." Benevolence means "kindness," or "compassion"—caring about others, in this case, the dead.
I showed slides and talked about archaeological discoveries of people buried together in graves. Some, the "Lovers of Valdaro" in Italy, were a man and woman buried in Italy during the Neolithic era, late Stone Age lovers. Another grave from Greece, likely much older, featured a couple buried as one—almost as if they were trying to stay warm.
Most of the chapter dealt with another exercise in benevolence: the repatriation (return) of the bones of more than 400 sailors who drowned when the USS Oklahoma, a battleship, was torpedoed during the attack on Pearl Harbor in Hawaii on December 7, 1941. As older folks will tell you, this was "a day that will live in infamy" that triggered America's entry into World War II.
In my research, I discovered how the interest of one old man named Ray Emory, who was curious about the mass burial of all those dead sailors in a military cemetery in Honolulu. He wanted to find out whether the bones of one sailor could be identified, and he asked the US Navy to take a look at the matter.
As it happened, along came the  discovery of DNA investigations, and eventually the Navy agreed to try and identify these men using DNA, dental records, and other research processes to sort through these masses of bones.
By late last year, the Navy actually did identify nearly 400 of these sailors.  One was Navy Fireman Second Class Gerald Ford, a 25-year-old man whose bones were returned and buried near his parents in Nebraska.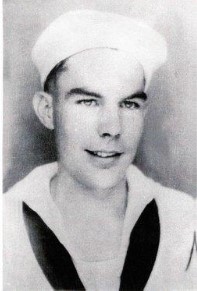 Sailor Gerald Ford
****                                                     .
Now for the rest of the story. It's Black History Month, and I started to wonder whether any sailors of African descent drowned in the Oklahoma.
I found a list of the dead online, arranged alphabetically. Down the list I scrolled, until I found this: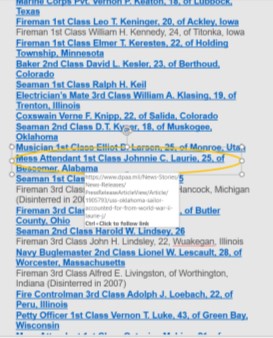 There's a name,  Mess Attendant 1st Class Johnnie C. Laurie, 25, from Bessemer, Alabama. This was a strong clue that this sailor was African American.
I already knew that the US military was segregated during the war, which meant that Black sailors and soldiers and airmen (and women too) couldn't fight or work alongside whites. In the Navy, Black sailors served as servants, cleaning, doing laundry, and as mess attendants—waiters in the dining areas aboard ships. ("Mess" in the military means where soldiers and sailors eat, as in the "officers mess.")
More research on a military website, and I found Johnnie Laurie's photo and more about him. His bones were returned to Alabama in 2019, and he is buried in the Alabama National Cemetery.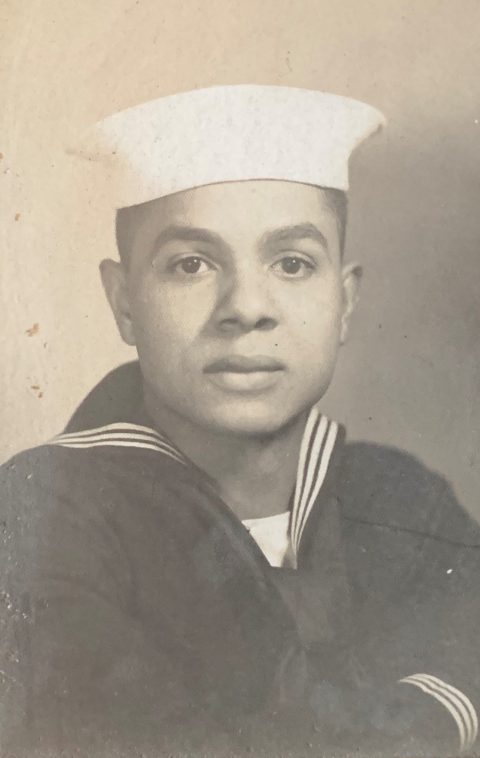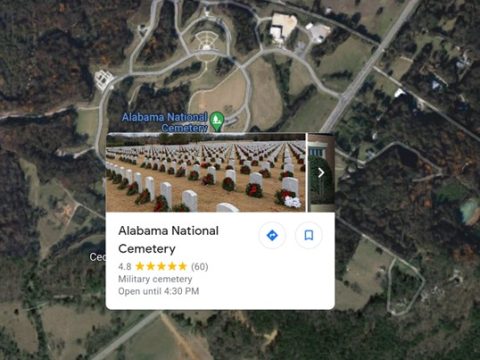 Sailor Johnnie C. Laurie
More details here: https://dpaa.secure.force.com/dpaaProfile?id=a0Jt0000000XeJiEAK/